2019 Honda Odyssey Passenger and Cargo Space Dimensions
By Product Expert | Posted in Honda Odyssey on Thursday, August 2nd, 2018 at 4:32 PM
How much space is there inside the 2019 Honda Odyssey?
Created with families in mind, the Honda Odyssey is one of the few minivans on the market today that are still popular among parents of all ages. Whether your family is still growing or fully grown, the spacious interior of the 2019 Honda Odyssey is sure to come in handy. Learn more about the spacious passenger and cargo areas available inside this versatile minivan.
Passenger Space
With seating for up to eight passengers, the 2019 Honda Odyssey does a great job dispersing its interior volume among front, second and third-row passengers, giving everyone plenty of room to sit comfortably. Between its three rows of seating, the 2019 Honda Odyssey offers up a total of 163.6 cubic feet of cargo space.
Cargo Room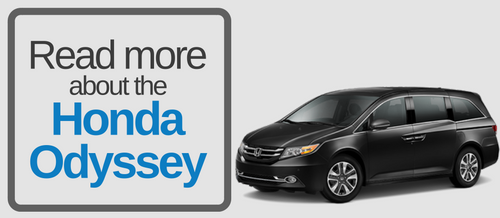 Designed to be able to haul the gear and luggage of the whole family, the 2019 Honda Odyssey has plenty of cargo space available behind its third-row seats. The designated cargo space behind the third-row passenger seats offers up to 38.6 ft3 of cargo space – plenty of room for your daily gear like strollers, backpacks, groceries, etc.
However, should you need more space for larger items like furniture, kayaks, or even moving boxes while shipping the kids off to college, the second and third-row seats can fold completely flat, added some extra space for more items. By folding down just the third row, you can expand the Odyssey's cargo space to a significantly larger 92 ft3. Even more space can be created by folding down both rows of seating, offering up a total of 158 ft3.
If you're interested in getting behind the wheel of the new 2019 Honda Odyssey, contact us today at Continental Honda. We currently have a selection of models available for shoppers to choose from.